As a part of our Diversity, Equity, Inclusion, and Belonging (DEI&B) efforts, we just broke the less is more rule and added one new cultural value, Be YOU 💎, to our beloved set of core values at MOSTLY AI. According to Benton and Bradford Consulting, authenticity at work is the opposite of conformity.
While all our 'Mostlies' share some personality traits - for instance we're all fearless and we have a fair split between Crocs lovers and haters - our team is committed to creating an environment where uniqueness is not just accepted, but rather celebrated.
But what exactly does it mean to "Be YOU"... can someone be rude in the morning because that's just how they are? No, not really! Weird habits or odd quirks are okay, but ultimately what we really want is for everyone to feel safe enough to work with authenticity, and bring their originality to their role, their team, and our business.
As aptly put in this article, "Be yourself! But not if your default status is jerk. If expressing your true self means acting in opposition to your company's commitment to corporate values and diversity, inclusion, and equity (DEI), then that part of your persona needs to stay home." Authenticity aligned with organizational values is the sweet spot in the workplace.
Honesty is a key part of authenticity at work, however, there's a distinct difference between being brutally honest and being truthful with others. If you are interested in this topic, in the book "The Dance of Deception" psychologist Dr. Harriet Lerner distinguishes between these two concepts, arguing that honesty can sometimes represent our uncensored ideas and feelings, whereas truth requires tact, timing and empathy with the other person.
Now that we have cleared what it does not mean, let's talk about what "Be YOU" stands for, in the context of our work and careers, at MOSTLY AI.
Authenticity at work means embracing who we truly are
At MOSTLY AI we give ourselves the freedom to live and work authentically. We don't want our people to act differently around a manager or colleagues to impress them or to fit in. And we definitely don't want our people to say what they think others want to hear, especially if this goes against their true nature.
Acting in line with others' expectations of you can be exhausting, and feel confining, and after a while it's bad for performance. In turn, when we are authentic and live and work by our values, it can lead us to higher self-confidence and satisfaction. Furthermore, if we're true to ourselves, others will respect us for standing by our values and beliefs. This fosters cooperation because it builds the strength and openness needed to deal with problems quickly, instead of procrastinating or ignoring them.
Sometimes, when you pay attention to the details, you'll soon realize if you find yourself in a space where you're able to express your authentic self. For example, it's feeling comfortable ordering a green tea when you're surrounded by a majority of coffee fanatics. Authenticity at work means you feel safe raising your hand in front of the whole company.
Examining and challenging our beliefs
Authenticity at work also means that all of us should make an effort to show sensitivity towards others' perspectives, views, and concerns. This behaviour promotes empathy, fosters mutual respect, increases understanding and reduces conflict.
"I like people who are not sure of themselves, the perplexed, the modest, those who try to understand." – Ettore Sottsass
We try really hard not to make any assumptions about others. We let others' actions speak for themselves, and take their words at face value. And one of the best things about being open-minded with others is that they will most likely extend the same courtesy to us. So it's a win-win situation!
Inspiring others
Together we can create a world where everyone feels comfortable being exactly who they are. We win as a team and by inspiring others we can build strong and supportive teams and communities, where everyone feels included, connected and with a sense of belonging. This is how authenticity at work is ingrained in the culture of a company for the long term.
There's also a multiplier effect to vouch for. When we inspire others, we motivate them to take action towards achieving their goals. This can help them to overcome obstacles and challenges that may be holding them back. And by inspiring others, we also grow. By sharing experiences and knowledge with others, we are forced to reflect on our own values and beliefs, which can help us to become more self-aware and improve our own lives.
Being ourselves
There's no one else in the world like us, and that's something to celebrate. When we trust ourselves and do what we know to be right, we can live to our full potential. Instead of letting others dictate what's best for us, we take control of our life and career, including our growth and development.
Authenticity at work in a remote-first setting
MOSTLY AI is a remote-first synthetic data company. To help embrace individuality, we've created a set of dedicated Slack channels as spaces for us to connect and share personal interests. These include channels for memes, random content, holiday photos, and favorite series / movies. We've also collaborated on a global recipe book and a playlist, which both highlight our personal tastes and backgrounds.
In addition, each week we feature a colleague as part of our 'Get to know' series. It's an optional initiative where someone answers 10 or 12 questions from a pool of 30, giving other Mostlies an easy opportunity to get to know their colleague in a different light. Our Marketing team then turns this content into a fun one-pager for everyone to enjoy each Friday.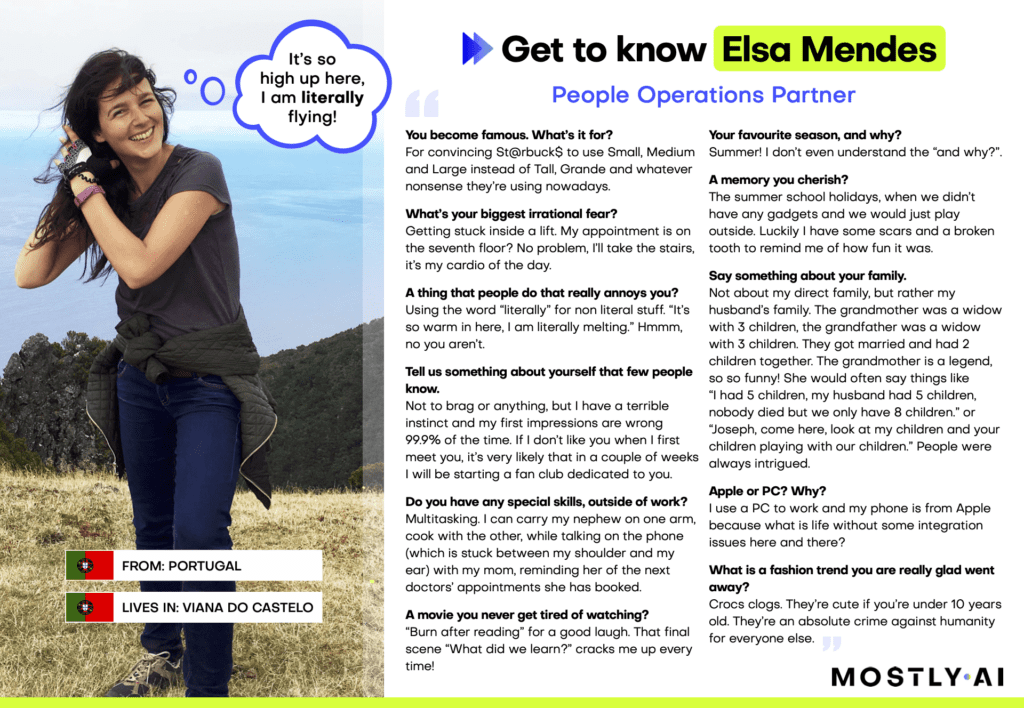 A step towards radical authenticity at work
By adopting this new value, we are not promising long-term happiness at work, but it's fair to say that it is good to understand our own values and strengths, and then find opportunities in our team where these will make a positive impact and help MOSTLY AI succeed. Diversity makes us stronger and smarter, which ultimately will allow us to deliver the best product.
Spend some time thinking about what makes you authentic, and be brave enough to let these unique attributes shine through at work. You may just surprise yourself, and others. Be YOU, because everyone else is already taken. And remember, it's about consciousness, making authenticity a daily practice.
"Radical authenticity is a continuous, imperfect and ever-evolving practice of unlearning and letting go of what isn't your truth. It's trusting yourself to live, love, and lead from your heart." - Laura Brunton
Similarly, authenticity at work is always work in progress.