Data governance is a data management framework that ensures data is accurate, accessible, consistent, and protected. For Chief Information Officers (CIOs), it's also the strategic blueprint that communicates how data is handled and protected across the organization.
Governance ensures that data can be used effectively, ethically, and in compliance with regulations while implementing policies to safeguard against breaches or misuse. As a CIO, mastering data governance requires a delicate balance between maintaining trust, privacy, and control of valuable data assets while investing in innovation and long-term business growth.
Partnerships for data governance: the CIO priority in 2024
In 2024, Gartner forecasts that CIOs will be increasingly asked to do more with less: with tighter budgets and a watchful eye on efficiency needed to meet growing demands around digital leadership, delivery, and governance.
CIOs find themselves at a critical moment that requires managing a complex digital landscape and operating model and taking responsibility and ownership for technology-enabled innovation around data, analytics, and artificial intelligence (AI).
These emerging priorities demand a new approach to data governance. CIOs and other C-suite executives must rethink their collaboration strategies. By tapping into domain expertise and building communities of practice, organizations can cut costs and reduce operational risks. This transformation helps reposition CIOs as vital strategic partners within their organizations.
Among the newest tools for CIOs is AI-generated synthetic data, which stands out as a game-changer. It sparks innovation and fosters trusted relationships between business divisions, providing a secure and versatile base for data-driven initiatives. Synthetic data is fast becoming an everyday data governance tool used by AI-savvy CIOs.
What is AI-generated synthetic data?
Synthetic data is created using AI. It replicates the statistical properties of real-world data but keeps sensitive details private. Synthetic data can be safely used instead of the original data — for example, as training data for building machine learning models and as privacy-safe versions of datasets for data sharing.
This characteristic is invaluable for CIOs who manage risk and cybersecurity, work to contract with external parties for innovation or outsourced development, or lead teams to deploy data analytics, AI, or digital platforms. This makes synthetic data a tool to transform data governance throughout organizations.
Synthetic data use cases are far-reaching, particularly in enhancing AI models, improving application testing, and reducing regulatory risk. With a synthetic data approach, CIOs and data leaders can drive data democratization and digital delivery without the logistical issues of data procurement, data privacy, and traditionally restrictive governance controls.
Three CIO strategies for improved delivery with synthetic data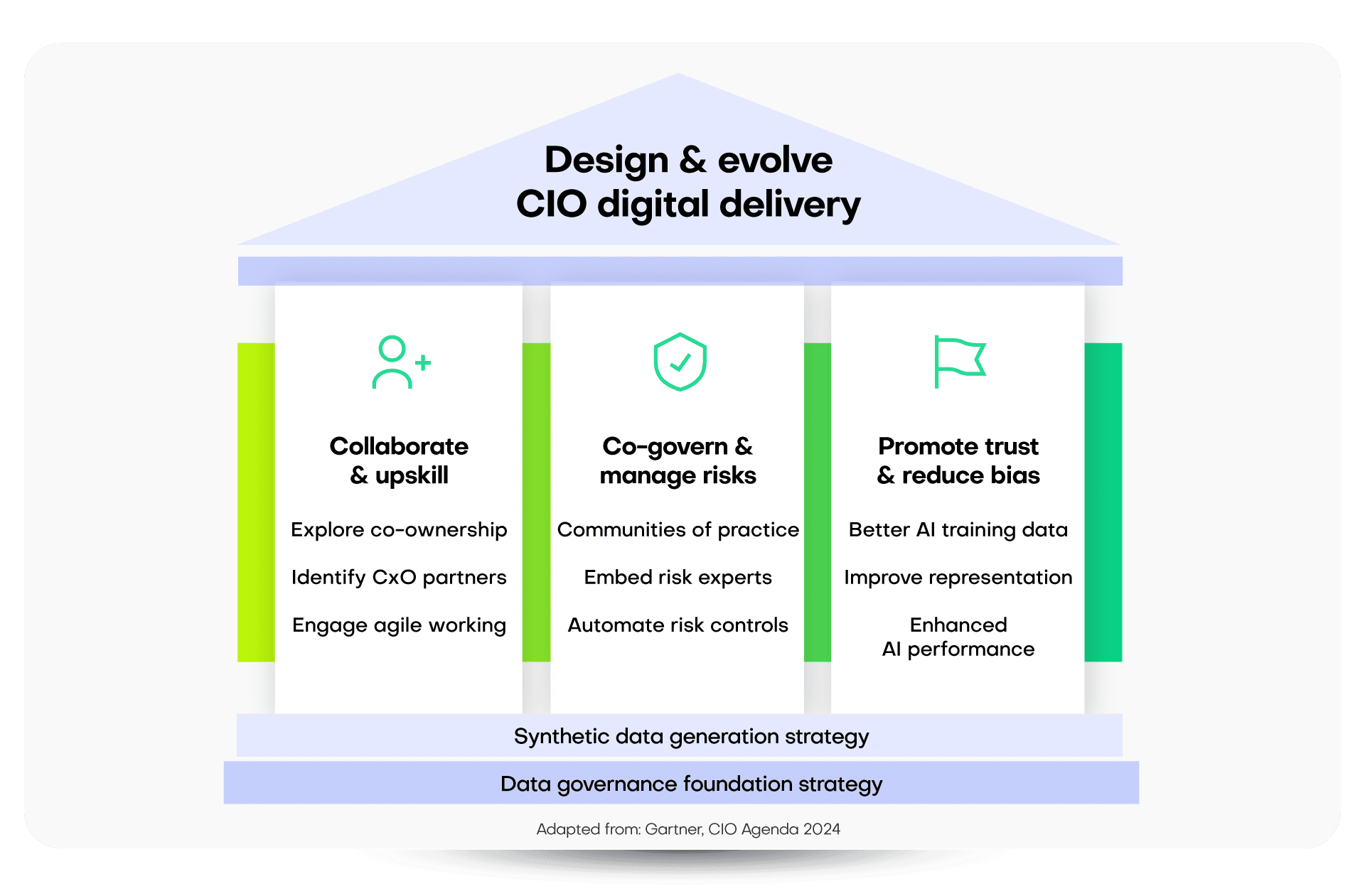 To understand the impact of synthetic data on data governance, consider the evolving role of CIOs:
Traditional Role: 55% of CIOs surveyed maintain complete control over their digital and technical domains.
Shift to Partnership: Conversely, 12% of CIOs now share responsibilities for digital delivery, embracing equal partnerships with their business counterparts.
The real surprise from Gartner's findings comes from the actual outcomes of these reported digital projects, with a stark, inverse relationship between pure CIO ownership and the ability to meet or exceed project targets. Indeed, only 43% of digital initiatives meet this threshold when CIOs are in complete control, versus 63% for projects where the CIO co-leads delivery with other CxO executives.
When CIOs retain full delivery control, only 43% of digital initiatives meet or exceed their outcome targets.
So, how can CIOs leverage synthetic data to drive successful business innovation across the enterprise? What steps should a traditional Chief Information Officer take to move from legacy practices to an operating model that shares leadership, delivery, and data governance?
Strategy 1: Upskilling with synthetic data
Enhancing collaboration between CIOs and business leaders
To educate and equip business leaders with the skills they need to co-lead digital initiatives, there are shared challenges to overcome. Pain points are no longer simply an "IT issue," and new, agile ways of working are needed that share responsibility between previously siloed teams.
In these first steps, synthetic data can feel like uncharted territory, with great opportunities to democratize data across the organization and recreate real-world scenarios without compromising privacy or confidentiality.
As business and technology teams work more closely together to develop digital solutions, synthetic data can bridge the gap between these groups, offering safe and effective development and testing environments for new platforms or applications or providing domain experts with valuable insights without risking the underlying data assets.
Strategy 2: Risk management through synthetic data
Creating safe, collaborative spaces for cross-functional teams
A shared responsibility model democratizes digital technology delivery, with synthetic data serving as common ground for various CxOs to collaborate on business initiatives in a safe, versatile environment.
Communities of practice (CoPs) ensure that autonomy is balanced with a collective feedback structure that can collect and centralize best practices from domain experts without overburdening a project with excessive bureaucracy.
This approach can also extend beyond traditional organizational boundaries—for example, contracting with external parties. Synthetic data alleviates the risk typically associated with sharing sensitive information (especially outside of company walls) while enabling partners access to the depth of data required for meaningful innovation and delivery.
Strategy 3: Cultural shifts in AI delivery
Using synthetic data to promote ethical AI practices
Business demand for AI far outstrips supply on CIOs' 2024 roadmaps. Synthetic data addresses this challenge by:
Promoting Trust: Synthetic data allows precise control over its generation process. This enables analysts to investigate outlier data points thoroughly. Additionally, it aids data scientists in explaining and stress-testing AI models to guarantee fair representation and consistent reliability for diverse use cases.
Reducing Bias: Synthetic data generation can rebalance data distribution across data categories without losing integrity or detail.
Enhanced Performance: Feeding AI models better training data leads to more precise personalization, robust fraud detection capabilities, and improved customer experiences.
However, adopting synthetic data in co-led teams isn't just a technical approach; it's cultural, too. CIOs can lead from the front and underscore their commitment to social responsibility by promoting ethical data practices to challenge data bias or representation issues. Shlomit Yanisky-Ravid, a professor at Fordham University's School of Law, says that it's imperative to understand what an AI model is really doing; otherwise, we won't be able to think about the ethical issues around it. "CIOs should be engaging with the ethical questions around AI right now," she says. "If you wait, it's too late."
The data governance journey for CIOs: From technology steward to C-suite partner
A successful digital delivery operating model requires a rethink in the ownership and control of traditional CIO responsibilities. Who should lead an initiative? Who should deliver key functionality? Who should govern the resulting business platform?
The results from Gartner's survey provide some answers to these questions. They point clearly to the effectiveness of shared responsibility — working across C-suite executives for delivery versus a more siloed approach.
Here's how CIOs can navigate this journey:
Encourage experimentation: Build a culture that embraces synthetic data to achieve rapid prototyping and iterative feedback for digital delivery.
Bridge the IT-Business divide: Use synthetic data to democratize data and share digital delivery responsibilities across the C-suite.
Expand collaboration: When data privacy or intellectual property concerns restrict data sharing, synthetic data can enable collaboration, allowing for innovation or external partnerships without increased risks.
Ultimately, successful business innovation depends on data innovation. CIOs can build a collaborative, innovative culture based on data governance where every executive stakeholder feels a closer ownership of digital initiatives.
Synthetic data enables different departments to innovate without direct reliance on overburdened IT departments. When real-world data is slow to provision and often loaded with ethical or privacy restrictions, synthetic data offers a new approach to collaboration and digital delivery.
With these strategic initiatives on the corporate agenda for 2024 and beyond, CIOs must find new and efficient ways to deliver value through partnerships while building stronger strategic relationships between executives.
Advancing data governance initiatives with synthetic data
For CIOs ready to take the next step, embracing synthetic data within a data governance strategy is just the beginning. Discover more about how synthetic data can revolutionize your enterprise!
Get in touch for a personalized demo
Our team is happy to walk you through MOSTLY AI, the market-leading synthetic data generator, and help you discover your best synthetic data use cases.
Contact us