Today we are super excited to share the news that we launched our Phantom Stock for All Program. Unlike in the US or the UK there is no legal framework for employee stock options in Austria. Therefore we had to construct a model that mirrors the behavior of a stock option plan adjusted to the Austrian legal system. The result is our MOSTLY AI Phantom Stock Option Plan (PSOP).
Why did we launch a Phantom Stock for All Program?
Our management team and investors believe that we need a world class team to achieve our mission of enabling organizations to thrive ethically and responsibly with smart and safe synthetic data and that employee ownership pulls in top talent. Employees are looking for more than just work that pays the bill. They are looking for purpose and a way to change the world and they want to participate in the value they created. Phantom stock can help us along the whole journey of being a member of the MOSTLY AI team.
HIRING TOP TALENT
A great tool to attract top talent across the globe. While in some regions employees expect stock options, others might not even be aware of the concept. We want to reward every MOSTLY in a meaningful and fair way across the globe. As a remote first company, it is especially critical to create shared interest and to put all our people on the same track, no matter which part of the world they live in. The Phantom Stock for All Program creates a shared space where a global mission becomes a reality.
KEEPING PEOPLE ON BOARD
We know that our talents are among the best in their respective fields and in high demand on the market. Therefore, we want to retain them and let them benefit from their hard work in the long run.
MOTIVATION
Every MOSTLY has a stake in the company and understands and benefits from going the extra mile when needed. Yearly reviews and significant refreshers also reward individual and team performance.
ALIGNING GOALS ACROSS TEAMS
We all share a common goal - the overall, long term company success. This unites the teams and pulls everyone in the same direction. MOSTLIES are fearless (one of our core values) - we explore uncharted territories and if we succeed, we succeed together.
How does MOSTLY AI's Phantom Stock for All Program work?
GRANTING
We have granted every team member phantom options and will include phantom stock options in the offers for new joiners. This means that all our employees receive rights which entitle them to certain bonus payments by the company calculated on the basis of Phantom Shares in the case of a liquidity event, which can either be an IPO or an acquisition of the company.
VESTING
There are different types of vesting schedules possible, such as backloaded vesting or annual vesting. We opted for the employee-friendly "monthly-vesting" option with a standard one year cliff period. While many programs terminate vesting in case of long term absence (longer than 30 days) we decided to continue vesting up to a 3 months absence - and in case of family leave even up to 12 months.
EXERCISING
Austrian Tax Law (as many other European laws, for example in Germany) doesn´t know a "Fair Market Valuation" and therefore many companies offer strike prices based on the latest fundraising valuations. We also do that, but offer a considerable discount to make the program even more attractive for all of our team members.
BENEFITTING FROM THE OPTION
We are all working towards a high valuation in case of a liquidity event so that everyone will benefit from their hard work and contribution. It's so simple that we wonder why this isn't how things are done everywhere.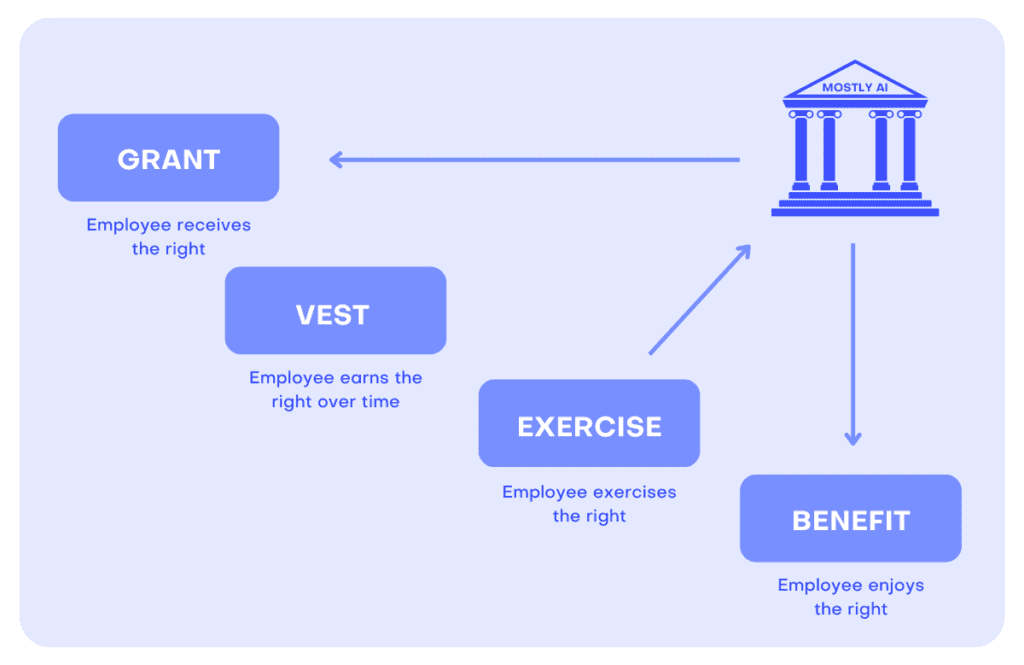 Big Kudos to the team from Index Ventures for pulling together a comprehensive guide for European startups. When designing our PSOP system, we also took inspiration from Balderton Capital's guide to employee equity.
Interested in shaping the future of synthetic data?
Check out our open roles to see how you can join the MOSTLY AI team.