Last Thursday the European Court of Justice published their verdict on the so-called Schrems II case: See the full ECJ Press Release or The Guardian for a summary. In essence, the ECJ invalidated with immediate effect the EU-US Privacy Shield and clarified the obligations for companies relying on Standard Contractual Clauses (SCC) for cross-border data sharing. This verdict, the culmination of a year-long legal battle between data privacy advocates, national data protection authorities, and Facebook, came to many observers as a surprise. In particular, as the Privacy Shield has been established as a response to yet another ECJ ruling made in 2015, that already recognized the danger of US surveillance for EU citizens (see here for a timeline of events). However, the ECJ makes the case that the Privacy Shield is not effective in protecting the personal data of European citizens, a recognized fundamental right, in particular with respect to (known or unknown) data requests by US intelligence agencies, like the NSA.
Let's take a step back: Personal data is protected within the EU based on the General Data Protection Regulation (GDPR) and other previous regulations (e.g. Charter of Fundamental Rights). With this unified regulation, it is relatively easy to move personal data across borders within the European Union. However, data transfer to a third country, in principle,  may only take place if the third country in question ensures an adequate level of data protection. The data exporter needs to ensure that this adequate level of data protection is given. Because this is difficult and cumbersome to do on an individual basis, the data transfer to the US has been granted a particular exemption via the EU-US Privacy Shield in 2016. It is this exemption that has now been recognized as being invalid from its beginning.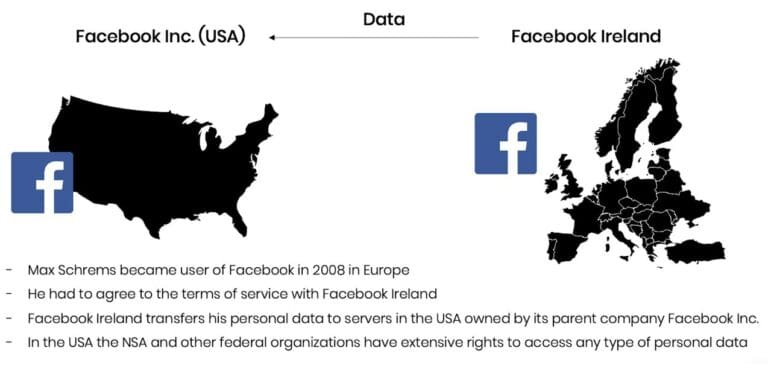 Max Schrems, privacy advocate and party in the case, expressed relief and satisfaction in a first reaction to this verdict. The non-profit organization NOYB, which he founded, shared their view on the ruling in their first reaction. In particular, the clear call to action towards national Data Protection Authorities was highly welcomed, as the GDPR relies on these in order to be truly effective. Several privacy law firms followed suit over the last couple of days and published their perspectives. E.g., Taylor Wessing also emphasizes that while standard contract clauses remain valid, they are not to be seen as a "panacea". The obligations to assess the legality of a cross-border data transfer remain with the data exporter and data importer and need to be studied on a case-by-case basis, which typically incurs significant costs, time, as well as legal risks. As it has been shown by the ECJ verdict itself, even the European Commission was proven to be wrong in terms of their judgment when negotiating the Privacy Shield in the first place.
Bottom line is that this ruling will make it even more difficult for organizations to legally share any personal data of EU citizens from the EU to the US, as well as to other third countries. This impacts the sharing of customer data just as well as employee's data for multinational organizations. And this ruling comes on top of a global trend towards tighter data sovereignty and data localization laws taking effect (see here).
All that being said, it is important to remember that none of this applies to non-personal data. While most existing anonymization techniques need to destroy vast amounts of information in order to prevent re-identification, it is the unique value proposition of synthetic data that finally allows for information to flow freely at granular level as needed, without infringing individuals' fundamental right for privacy. Rather than sharing the original, privacy-sensitive data, organizations can thus share statistically representative data and circumvent the restrictions on personal data.
Our economy increasingly depends on the free flow of information. It's broadly recognized, and yet, at the same time, the need for strong privacy is more important than ever before. Synthetic data is a solution that offers a viable way out of this dilemma. Watch our webinar entitled Can AI solve the Schrems II puzzle? to learn more!