Synthetic data is highly flexible
You can create, share and discard synthetic data at will. It is as good as production data and capable of improving data quality. You can even modify existing data sets, e.g. to correct for present bias.
Synthetic data will replace real data
AI-generated synthetic data is currently mainly used for training machine learning models. However, they are starting to emerge in software development and testing. It's time to take radioactive production data out of non-production environments. At the same time, the solution cuts time-to-market significantly.

Other use cases are continuously emerging and the future of business decisions is synthetic.
Data-driven innovation and transformation continues to accelerate
Data being the lifeblood of modern businesses poses enormous challenges to decision makers. Especially in regulated environments. On the one hand, their use is restricted by privacy, safety or other regulations. On the other hand, they are critical in driving innovation and accelerating digital transformation. Synthetic data helps overcome this dilemma.

Synthetic data is safe and fully anonymous
Synthetic data generation is better than traditional anonymization methods. Instead of changing and in the process destroying an existing dataset, synthetic data is generated from scratch. First, a deep neural network learns all the structures and patterns in the actual data. After the training, the model uses this knowledge to generate new synthetic data. This artificially generated data is highly representative, yet completely anonymous. It does not contain any one-to-one relationships to actual data subjects, eliminating the risk of re-identification.

Synthetic data is highly accurate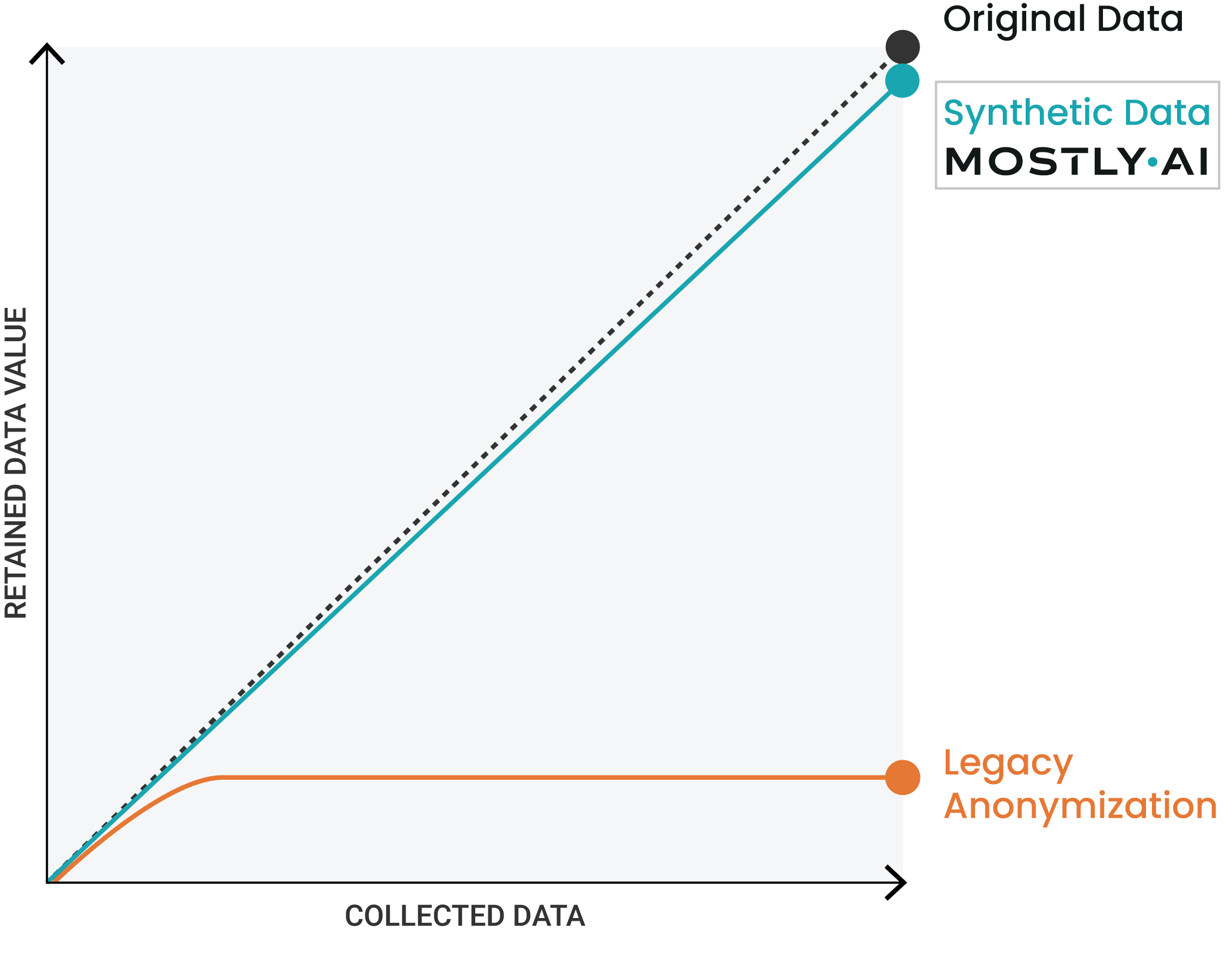 MOSTLY AI is capable of retaining 99% of the value and information of your original datasets. This unprecedented accuracy allows using synthetic data as a replacement for actual, privacy-sensitive data in a multitude of use cases.

The potential of simulated data
AI-generated data allows for data simulation. Companies can develop synthetic business scenarios and simulate customer behavior. The business opportunities arising from this are endless.

The potential of cross-industry collaboration
Synthetic data enables not only privacy-compliant data sharing within organizations. It enables a new level of cross-company and cross-industry collaboration - with huge economic benefits for everyone involved.

Synthetic data increases efficiency and profitability
In many ways, synthetic data helps speed up business processes and reduce bureaucracy. For data scientists, actuaries, pricing analysts and many more, it reduces the time to data massively and frees up their time to focus on value creation. It leads to leaner processes, higher employee loyalty and increased competitiveness.